Dreamforce 2022
In Person and Your Face
For the first time since 2019, Dreamforce 2022 was back in person for the general population. 2021 was technically an in-person event, but it was by invitation only for 1,000, pretty much limited to those in the same country. This year was 40,000 attendees and opened up to the rest of the world outside the USA.
In Person Dreamforce is Awesome
Virtual events are fine when we're all stuck at home by order of our respective government orders, it can't compare to in-person. The opportunities for networking, casual conversations, noticing something interesting, or just chatting to people while queueing or moving around cannot be replicated via an online system. For me this was the first time I'd seen a number of old friends from around the world in 3+ years, and it was wonderful to reconnect. It's also great to make new ones.
In Person Dreamforce is Weird
London's Calling and Salesforce World Tour London were also weird, but on a much smaller scale. Getting back to Moscone Center, Salesforce Tower, Dreamforce Park and the Trailblazer forest felt like a slightly out of body experience after the pandemic years - a bit like watching a restored version of a film that I'd seen many time before. Still awesome though.
In Person Dreamforce is Exhausting
One of the things that I'd forgotten about since 2019 was just how tiring a Dreamforce day is, and how these accumulate to leave you a burnt out hulk by the end of the week:
Early starts

Late finishes

Various stimulants (coffee) and depressants (beer)

Eating at strange times - lunch is served at 11:30, which seems really early, but if you leave it you'll miss out)

Lengthy periods of focusing on complex technical topics.
Still awesome, although I'm glad it was 3 days this year.
Genie
The big announcement at the keynote was Salesforce Genie, a new "Customer 360" attempt, but this time with real-time data, harmonisation, AI and spanning marketing, sales, service and more. Phil Waineright produced a great write-up for Diginomica, so if you want to find out more I'd recommend starting there, then taking the Quick Look badge on Trailhead, and then waiting, as there's not a huge amount more out there (even though it's GA).
Genie came with a new mascot, a rabbit, which led to some bunny ears
All good fun, but I sometimes wonder if the smiles on the faces of execs from other companies (Ford and L'Oreal, among others, in this case) become a bit forced when interviewed by a billionaire wearing props. I guess they know what they are getting into.
According to Mirriam-Webster, a genie is a magical spirit (believed to take human form, but why not a leporid?), but in this case rather than being pulled out of a hat by a human, Genie the rabbit pulls humans out of the hat to target.
Slack
As many readers will know, BrightGen was majority acquired by Credera last year, and this year we migrated to Microsoft for productivity tooling, including Teams. Aside from the resource hogging app, Teams covers a lot of the Slack functionality, and has great collaboration around docs/spreadsheets etc, and also SharePoint sites. Looking back at Slack it all felt a bit "texty". The introduction of Canvas - Quip integration - levels the playing field, and the demo of Huddles had some nice features. Maybe the FOMO will return.
True to the Core
A perennial favourite, True to the Core (aka TttC) got the big keynote room this year. It may be time to rename it True to the Cores, as there were product leaders from Salesforce platform, Tableau, Slack, MuleSoft, as well as Parker Harris and Bret Taylor. The latter showing once again that he was happy not taking himself too seriously when he gave up his seat to invite Sarah Franklin up to talk more about the community, and perched hobbit-like for the next few minutes:
TttC(s) always throws up some great ideas, and the stellar one this year was about low-cost API users to promote better governance (if you have to burn full user licenses, the temptation is to do everything through a single API user, which doesn't fit well with the Principle of Least Privilege). This got a more than favourable response from the Salesforce Co-CEO (we should do it) and according to Patrick Stokes' (EVP & GM, Platform) twitter feed, is something being actively looked at: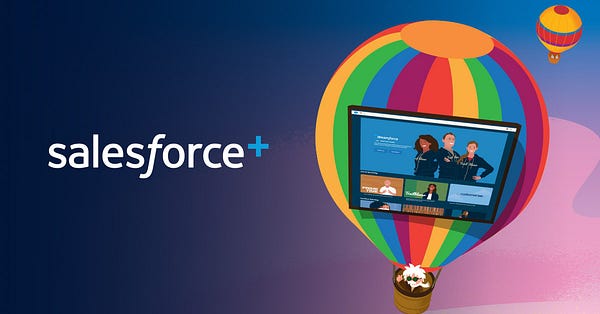 salesforce.com
Salesforce+
Salesforce+ includes live experiences, original series, podcasts, and other programming. With engaging stories, thought leadership and expert advice, Salesforce+ will illuminate the future of technology in the digital-first, work anywhere world and inspire millions of Trailblazers to learn new skill…
Architect Keynote
The most interesting announcement in this session was Salesforce Well Architected Framework - Trusted, Secure, Easy. There's a huge amount of information here so make sure you allow time to go through it in detail - clearly this is a focus area for Salesforce.
For Developers
Things kicked off early for devs with the Developer Day 0 event on Monday night - thanks Christie Fidura!
DataWeave in Apex is in Developer Preview - when GA this should allow us to hand off transformations like parsing CSV files to the MuleSoft DataWeave Library. Note that the libraries still run in the Salesforce data centers and are subject to the same governor limits, so this won't be a silver bullet.
Slack has a new platform in Open Beta, including a CLI, SDK re-usable code and workflow link triggers to allow workflow to be started from anywhere or shared. Workflow and triggers should nicely confuse any Salesforce platform developers too!
Simulate the Salesforce Mobile App to test your Lightning Web Components on a representation of a device.
And I'm not sure if it was announced at Dreamforce, but around that time Heroku unveiled their new low-cost plans - not quite the bargain of free tiers, but $60/year for 1,000 dyno hours a month does seem pretty affordable.
WhatsApp Partnership
Something that wasn't announced to a particularly large fanfare was the strategic partnership between Salesforce and Facebook to allow Salesforce customers to interact with their customers, and build custom messaging experiences using WhatsApp. I must admit I'm one of the people mentioned in the article who prefer interaction via messaging, because of the asynchronous but still real-time if desired nature of it. In fact I booked my UK airport transfers entirely via WhatsApp this year.
In Conclusion
Unlike previous years, none of the breakout or theatre sessions were recorded which is a double-edged sword - it reduces the reach from the session, but also makes it more re-usable. I'm thinking of repurposing mine to submit to London's Calling next year so keep an eye out for that.
Thanks to Daniel Ballinger, I got up to the Ohana Floor of Salesforce Tower on post-Dreamforce Friday, along with some familiar faces - recognise anyone?
This has been a quick skim of the key announcements that I saw at Dreamforce, but there is plenty more available on Salesforce+, including recordings of the keynotes.
Thanks for reading Bob Buzzard Stack! Subscribe for free to receive new posts and support my work.